U.S. telecom stocks traded relatively flat on average over the past week, as the FCC approved $1.9 billion in subsidies for the 'rip and replace' program of various telecommunications equipment manufactured by China-based entities deemed to be national security risks. The detailed policy guidelines, which offered a framework for subsidizing smaller carriers for concurring with government regulations, was fraught with operational risks and created an element of doubt and uncertainty within rural operators regarding the successful implementation of the same. President Biden's executive order to promote fair competition within diverse industries further added to the cacophony, as it largely issued directives to the FCC and FTC to initiate rulemaking procedures. The apparent dearth of self-executing policy measures perhaps stopped the industry from going gung-ho about this federal initiative.    
In order to be eligible for receiving federal subsidies for replacing equipment from China-based telecom companies, wireless operators should have served a population of 10 million users or less. The replaceable gears should have been obtained from banned entities like Huawei or ZTE prior to Jun 30, 2020. About 50 small carriers and rural operators are likely to fit the bill and unless these firms are duly reimbursed for replacing gear that are nearly 30-35% cheaper than other available variants in the market, they could go bankrupt for purchasing pricier alternatives to maintain their service quality. This, in turn, has significantly increased the operational risks for the effective execution of the subsidy program.
Among the various provisions within Biden's executive order, the telecom industry is likely to be more affected by three separate directives. These include an FCC-directive to reinstate Obama-era net neutrality laws, an order to monitor and report broadband price and subscription rates to FCC for dissemination to consumers, and an FTC-directive to provide consumers and third-parties a "right to repair" their devices without going through the device manufacturer. Although the directives are primarily aimed for the larger benefit, the rulemaking is likely to be a time-consuming affair with possibilities of being challenged in court, further delaying the process of implementation. Moreover, with the five-member FCC deadlocked with two Republican and two Democratic member representations, the Order is likely to be delayed until the fifth member is nominated and confirmed.  
Regarding company-specific news, product launch, patent settlement, guidance revision, network expansion and acquisition primarily took center stage over the past five trading days.
Recap of the Week's Most Important Stories
1.     At a time when the broader technology sector is reeling under acute global chip shortage, Qualcomm Incorporated QCOM has taken the world by storm by foraying into the smartphone market with one of its flagship chips. The venture has been made possible with a strategic tie-up with Taiwan-based telecommunications equipment manufacturer ASUS, and is an ode to the 1.6-million strong community of Snapdragon Insiders.  
Dubbed the Snapdragon Smartphone for Insiders (EXP21), the smartphone is co-designed and manufactured by ASUS. It runs on Snapdragon 888 processor and is equipped with an AMOLED display with Full HD+ resolution and Corning Incorporated's Victus gorilla glass – one of the toughest anti-scratch glasses available in the market that protects devices when dropped. Although Snapdragon 888 Plus is the latest SoC (System-on-Chip) from the Qualcomm stable, it is not being used in this high-end device as ASUS reportedly started the system designing process few months ago when the chip was yet to be launched.   
2.     Verizon Communications Inc. VZ has amicably settled two patent lawsuits with telecommunication equipment manufacturer Huawei Technologies in an out-of-court settlement, the details of which were kept under wraps. The dramatic turn of events followed after court proceedings began in one of the trials last week in Marshall, TX, and brings to end a bitter legal battle amid waning Sino-U.S. bilateral trade relationship.
The legal resolution puts to rest the uncertainty embroiled with the court proceedings and both the companies were reportedly pleased with the settlement, despite maintaining the secrecy of the due process involved. Huawei supposedly holds more than 100,000 active global patents across more than 40,000 patent families, including about 10,000 U.S. patents. The company aims to monetize these gold mines to make up for the lost revenues, after its bread and butter businesses of network equipment and smartphone manufacturing were crippled by the U.S. embargo.
3.     Nokia Corporation NOK recently announced that it plans to revise its earlier guidance for 2021 on improved market conditions that propelled its business in the second quarter despite a challenging macroeconomic environment. The company will provide the updated guidance in concurrence with the second-quarter results, scheduled to be released on Jul 29, 2021.
Earlier, Nokia expected net sales (adjusted for currency fluctuations) between €20.6 billion and €21.8 billion for 2021 with an operating margin of 7-10%. The company witnessed a solid pick up in sales in the second quarter, buoyed by a diligent execution of operational plans in order to achieve a sustainable and profitable growth. Nokia also benefitted from stringent cost-cutting measures and employee layoffs, while continuing to benefit from strategic partnership with diverse business entities. Consequently, the company intends to revise its outlook to better reflect the improving business conditions.
4.     Ericsson ERIC has inked a deal for an undisclosed amount with Vodafone Spain, an operating unit of Vodafone Group Plc, to help the latter deploy pre-commercial 5G Core Standalone (SA) network across the European country. Per the contract, the Nordic firm will also provide support services for the entire cloud-native 5G Core applications within the SA network.
 
The simplified SA architecture in RAN (radio access network) and the connected devices will provide Vodafone Spain improved 5G connectivity with low latency and wider coverage. In addition, Ericsson's Cloud Packet Core and Cloud Unified Data Management solutions will offer the wireless carrier a common multi-access and cloud-native platform with full interoperability features to support 5G and as well as previous generations for seamless operation. This, in turn, will enable Vodafone Spain to unlock the full potential of 5G as it embarks on a journey to provide 5G SA connectivity services throughout the country.  
5.     Motorola Solutions, Inc. MSI has inked a deal to acquire Openpath Security Inc. for an undisclosed amount. The acquisition will enable Motorola to combine its market-leading video security portfolio with advanced access control features.
Openpath's capabilities will allow Motorola to augment its footprint by supporting enterprise customers with state-of-the-art security solutions. Motorola is committed to the integration of security technologies that help organizations enhance safety.
Price Performance
The following table shows the price movement of some of the major telecom stocks over the past week and six months.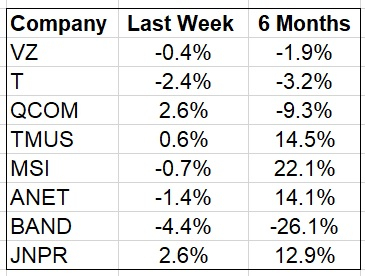 Image Source: Zacks Investment Research
In the past five trading days, Qualcomm and Juniper have been the best performers with stocks gaining 2.6% each, while Bandwidth declined the most with its stock falling 4.4%.
Over the past six months, Motorola has been the best performer with its stock appreciating 22.1%, while Bandwidth declined the most with its stock falling 26.1%.
Over the past six months, the Zacks Telecommunications Services industry has gained 12.4% while the S&P 500 has rallied 17%.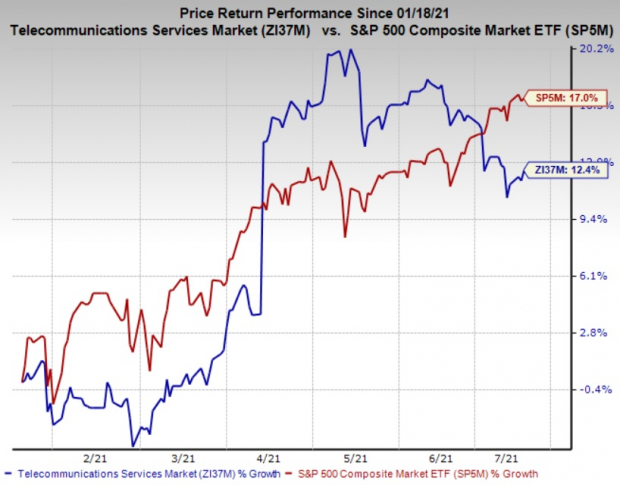 Image Source: Zacks Investment Research
What's Next in the Telecom Space?
In addition to 5G deployments and product launches, all eyes will remain glued to how the administration implements key policy changes to safeguard the interests of the industry with the earnings season around the corner.
(We are reissuing this article to correct a mistake. The original article, issued on July 15, 2021, should no longer be relied upon.)
5 Stocks Set to Double
Each was hand-picked by a Zacks expert as the #1 favorite stock to gain +100% or more in 2021. Each comes from a different sector and has unique qualities and catalysts that could fuel exceptional growth. Most of the stocks in this report are flying under Wall Street radar, which provides a great opportunity to get in on the ground floor. 
Today, See These 5 Potential Home Runs >>
QUALCOMM Incorporated (QCOM): Free Stock Analysis Report
Ericsson (ERIC): Free Stock Analysis Report
Verizon Communications Inc. (VZ): Free Stock Analysis Report
Nokia Corporation (NOK): Free Stock Analysis Report
Motorola Solutions, Inc. (MSI): Free Stock Analysis Report
To read this article on Zacks.com click here.
The views and opinions expressed herein are the views and opinions of the author and do not necessarily reflect those of Nasdaq, Inc.