By Bethany Bruner

The Columbus Dispatch
COLUMBUS, Ohio — The U.S. Department of Justice has agreed to review Columbus Division of Police's patterns and policies, particularly pertaining to racial bias, Mayor Andrew J. Ginther announced Thursday.
The mayor and City Attorney Zach Klein had requested in April that the DOJ complete a review of the division.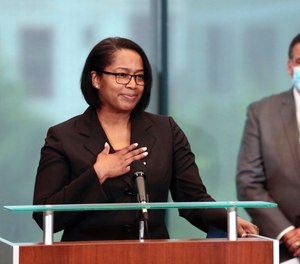 On Thursday, Klein said this review will be different than that done in other cities — such as Minneapolis in the wake of the George Floyd Jr. murder — and will be a way to gain expertise from across the country on best practices.
The DOJ has agreed to come into Columbus as part of the Community Oriented Policing Services (COPS) Office and it does not currently involve any litigation. When consent decrees are issued in cities by the DOJ, there is typically a lawsuit that is filed as part of the process.
"This approach is different because we invited them to come in and take a look under the hood and see how things are really working here," Klein said.
Police Chief Elaine Bryant said the DOJ will be working on reviews of several areas she has identified as "potential focus opportunities." Those include reviewing policies, officer training, technology and an early warning system to try and identify officers who may be in need of services prior to a critical incident taking place.
In their request letter, Klein and Ginther had said the city had made "significant progress in recent years in police reform," citing the Matrix Consulting report and a number of recommendations issued by the mayor's Community Safety Advisory Commission, but has met "fierce opposition from leadership within the Columbus Division of Police."
"This is not about one particular officer, policy or incident; rather, this is about reforming the entire institution of policing in Columbus," the letter said.
Bryant said the review will also have flexibility, allowing the DOJ to look into other areas as necessary as the review continues.
Ginther said the review by the DOJ will begin immediately and there is no timeline for how long it could last. He also said that health and safety remain a top priority and that he would work with the Columbus City Council and other city leaders to help fund any technology, programming or other costs that might be necessary as a result of the review.
The expertise of the DOJ personnel will be paid for by the DOJ, Klein said, but any additional programming, such as the technology for an early warning system, would have to be funded by the city.
In a statement issued Thursday, COPS Office acting director Robert Chapman said the information the DOJ will be able to provide to Columbus police can be leveraged in a variety of ways.
"The COPS Office has a track record of providing a wide array of resources and technical assistance that are flexible to the ever-changing needs of law enforcement agencies," Chapman said. "Those services include in-depth analysis and review of existing policies and procedures, peer-to-peer exchanges, facilitated discussions, training and more."
While the pattern and practices review of racial bias is not necessarily what the DOJ will be reviewing, Klein said racial bias will have to be a part of what is reviewed.
"The reality is, the areas of concern that the chief has identified will require an in-depth analysis of our policies, our training and procedures," he said.
Community members, including the newly formed Columbus Police Accountability Project (CPAP), had also asked for the DOJ to conduct a review of Columbus police. Attorney Sean Walton, one of the CPAP founders who has represented family members of people killed by police, said in a statement that the current planned involvement of the DOJ in Columbus is not enough.
"A review does not address the wrongs that have been inflicted upon the citizens of Columbus for years and does not lead to accountability for past bad acts, nor does it ensure protection from these bad acts in the future," Walton said. "This is yet another example of the City of Columbus officials doing everything they can to cover up CPD's history of abuses against citizens. To be clear, this is not a review of the documented history of abuses by CPD, this action by the City of Columbus is instead a blatant attempt to move past that history without bringing any justice to the people of this city."
Walton's statement went on to criticize Ginther as not interested in transformative change in public safety. He said Thursday's announcement was not something to celebrate, but rather an "egregious misstep and missed opportunity."
In a statement Thursday, Keith Ferrell, president of the Fraternal Order of Police Capitol City Lodge No. 9, which represents city police officers up to the rank of commander, said the union is happy to continue to have a dialogue about how to improve the division.
"We are confident in the leadership of Chief Bryant in that she will protect the integrity of the department and maintain the level of services that the officers and the public deserve," Ferrell said. "We are also confident in the professionalism of the officers and we look forward to improving one of the best police departments in the country."
The review comes as Columbus police have been involved in a number of high-profile incidents in the last 18 months.
In December, former Columbus police officer Adam Coy shot and killed Andre Hill, a 47-year-old unarmed Black man, inside a garage on the Northwest Side. Coy was later fired by Columbus police and has been indicted on charges of murder and reckless homicide. He is expected to face trial next year.
In April, Columbus police officer Nicholas Reardon shot and killed 16-year-old Ma'Khia Bryant outside a home on the Southeast Side. Bryant had a knife in her hand and appeared to be swinging it at another woman at the time he fatally shot her, according to body camera released by police. The case remains under review by the Franklin County prosecutor's office.
Also in April, U.S. District Court Judge Algenon Marbley granted a preliminary injunction against Columbus police in a lawsuit filed by more than two dozen protesters related to allegations of inappropriate and excessive police force during protests that occurred Downtown in late May and early June 2020 in response to the murder of George Floyd Jr. in Minneapolis.
Marbley banned the use of tear gas, pepper spray and other non-lethal force measures against nonviolent protesters.
©2021 www.dispatch.com. Visit dispatch.com. Distributed by Tribune Content Agency, LLC.