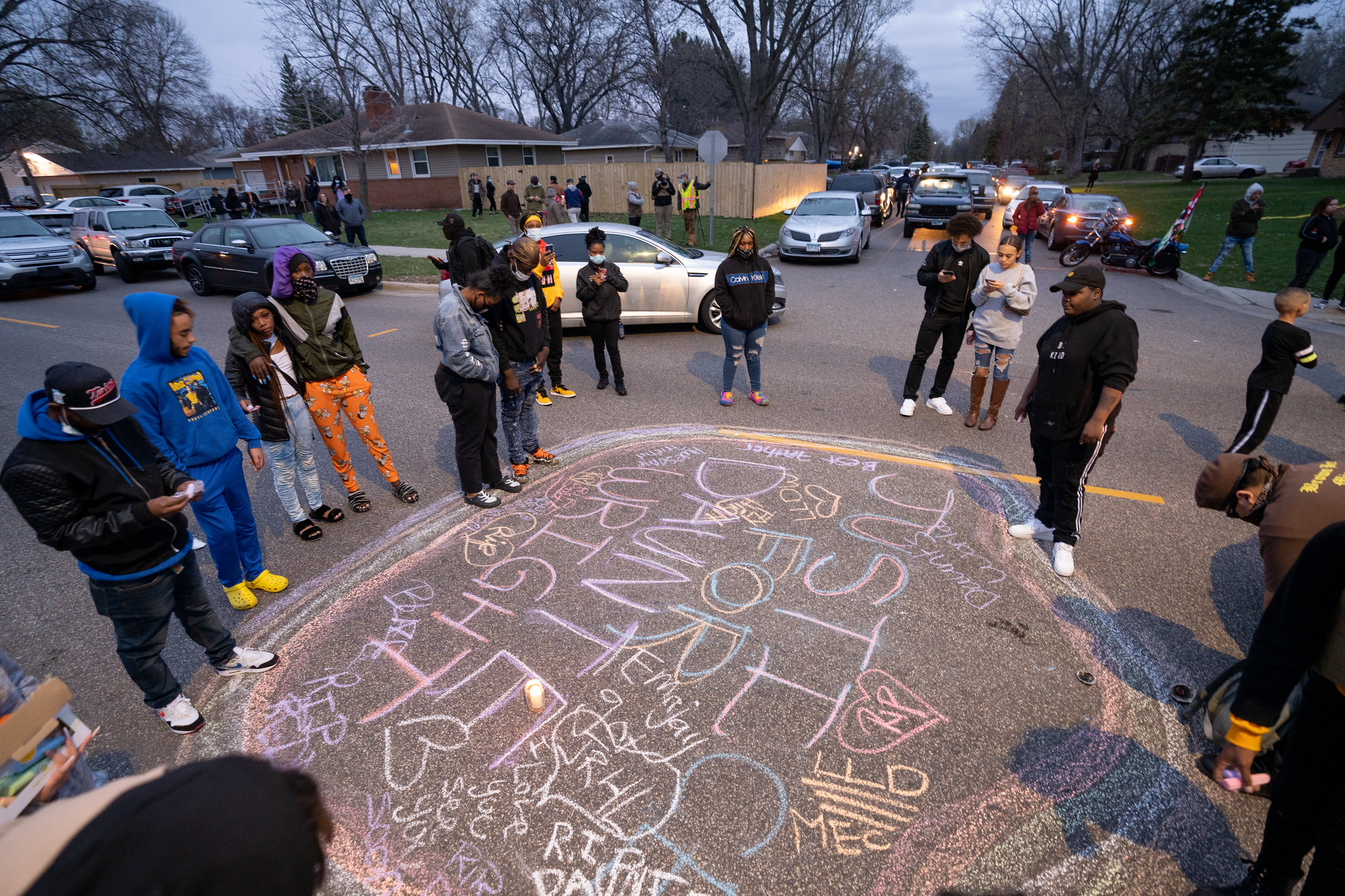 A wave of support for the family of Daunte Wright and the Brooklyn Center community has come following Sunday's tragic events. Brooklyn Center Police fatally shot 20-year-old Wright on Sunday afternoon during a traffic stop. According to bodycam footage from the scene, an officer reportedly called for a Taser but fired her gun.
Protests and unrest followed through the evening. Gov. Walz has issued a curfew for Hennepin, Ramsey, Anoka, and Dakota counties for Monday evening between 7 p.m. and 6 a.m., but protests continued.  
Here are some ways to help Brooklyn Center and Wright's family:
Bring food, water, and other necessities to Brooklyn Center High School (6500 N. Humboldt Avenue, Brooklyn Center), which reopens for donations Tuesday morning, according to Cindy Yang, an organizer, on Facebook. The school will also serve as a center for mourning until 6 p.m. Monday evening, according to Facebook. Until 5 p.m. Monday, Scoreboard Pizza (6816 N. Humboldt Avenue) has also been accepting supplies for protester support, including eye goggles, hand sanitizer, and pop-up tents, according to Yang on Facebook.
Items requested:
Food: Milk, baby formula, fresh vegetables, fresh fruit, Gatorade, ramen, eggs, clementines, granola bars, juice boxes, boxed dinners, canned foods, hot chocolate, cereal, apple sauce, beans, tortillas

Water

Medical supplies: Gauze and gauze tape; ointments; first aid kits

Masks

Feminine hygiene products

Diapers

Umbrellas

Portable chargers
Holistic Heaux says it is gathering supplies to support the mother of Wright's son. On Facebook, the locally based wellness business said to message @HolisticHeaux on Facebook or Instagram to receive the drop-off address. They are accepting donations Tuesday, according to the Facebook post. Holistic Heaux also listed online channels for financially supporting Wright's girlfriend.
Items requested:
Diapers (size 4)

Clothes (age 18-24 months)

Shoes (size 6)

Groceries

Gift cards
Organizer Cindy Yang and Alfreda Daniels, a Brooklyn Center-based community organizer and co-founder of the Black Immigrant Collective, are also collecting monetary donations to go toward supplies: Daniels at $AlfredaDaniels on Cash App, and Yang at @cindy-yang-19 on Venmo, according to Facebook.
Bauhaus Brew Labs and Minneapolis Cider Co. are donating 10% of sales revenue on Tuesday to Wright's family, while STEPCHLD, the Gnome Craft Pub, and Hope Breakfast Bar are donating 100% of Tuesday's revenue to the family.
GoFundMe campaigns:
Daunte Wright's family has set up a verified GoFundMe to go toward his funeral costs. "I set up this page to take the burden off my sister Katie Wright and brother in law Aubrey Wright as they are grieving the loss of there 20 year old son," writes organizer Kelly Bryant.
Rebuilding Brooklyn Center's Small Businesses: "MN Teen Activists is a nonprofit organization led by youth all over the metro. In the past, we have raised over 80K to give back to the broken businesses on Lake Street. Yesterday, Daunte Wright was fatally shot during a traffic stop by a Brooklyn Center police officer and his body was left on the ground for more than 3 hours. That caused an uproar of protests and looting, now Brooklyn Center needs OUR (our including you!) help on rebuilding the businesses and resources."
Help Lakes Pharmacy Recover from Looting: "Lake's Pharmacy is a Somali women-run business, based on Franklin Avenue in South Minneapolis. The business has fallen victim to looters on multiple occasions in the last year, including last night in the wake of the murder of Daunte Wright. Most recently, their losses included inventory, multiple computers and POS systems. Lake's Pharmacy is an important community resource, and source of health and wellness necessities. Business owner, Saida, has been working with local organizers to secure vaccination events in the Seward neighborhood and surrounding community. Donate today to help them bounce back and help the Seward community remain resilient through turbulent times."
Brooklyn Center Kids and Families: "The next few weeks may be difficult for students and families in the Brooklyn Center and Brooklyn Park communities to receive food. My friend, Nicholas Liebet, is a 6th grade teacher and football coach in the community. They have began food distributions in the area. Anything can help and all proceeds will go to the community to help provide meals for students and families. In addition to meals, toiletry and house needs, there is hopes to use funds for providing emotional support for the students at the schools."
Brooklyn Center Mutual Aid – Support Our Community: "We need PPE, supplies for medics, supplies to support safety for protesters, food, and other needs for the hundreds of families living by the police building."
Brooklyn Center Schools – Student and Family Support: "Many of our students and families are in crisis following the trauma that took place in our Brooklyn Center community on April 11 and we want to be able to prioritize the safety and wellbeing of our BC students, families and the community by offering the services and supports they need at this time. Donations will be used to purchase essential items and food, as well as support housing needs for any families in need."
Emergency Housing for Brooklyn Center
: "We are raising funds to support families in Brooklyn Center who live near the police department where the protests are happening and need to have a safe place to sleep for the next few nights."
Studiiyo23 Recovery
: "Moh Habib, the owner of the shop, is a vital part of the sneaker community in Minnesota and has served the community since the founding of his shop in August 2010. This is an underrated shop that has suffered a terrible loss of 75% of inventory and irreplaceable collectibles."
On the evening of Monday, April 12, there was a candlelight vigil for Wright at 63rd Avenue North and Kathrene Drive (in Brooklyn Center), where he was killed. While minding the 7 p.m. curfew that Walz set for metro counties, the vigil took place according to a Twitter post by @GeorgeFloydSQ, which requested that people bring LED candles due to unpredictable weather.
As new information comes to light, we will update this post.