DataVan's smart epidemic prevention solution to boost business opportunities of post COVID-19
DataVan's smart epidemic prevention solution, Facelook X1, integrating contactless precision body temperature detection and fast attendance management is advantageous to boost business opportunities of COVID-19 with unique algorithm and intelligent data center.
"Currently many Taiwan's companies show great growth due to requirements from European and American markets even though Taiwan is suffering the first serious outbreak," said Kris Hsu, CEO at DataVan. "However, many companies also realize that it will be a common situation to live with virus in the future of post COVID-19. Therefore entrepreneurs should adopt more reliable and efficient epidemic prevention solution to meet long-term business operation and business development." Thus, Facelook X1 is expected to be as the best epidemic prevention solution for business environment with its advantages of precision body temperature detection and fast facial recognition. Many clients from medical, technology, and traditional industries all agreed that Facelook X1 is workable to upgrade safer and more efficient epidemic prevention, and can reduce costs of epidemic prevention and attendance management.
According to feedbacks from clients, in addition to fast facial recognition, precision body temperature detection, large database capacity, easy installation, flexible extension, smart data center, one of the most attractive features of Facelook X1 is "Face Mask Detection". Facelook X1 is capable of 99.25% correct rate of facial recognition with mask through continuous AI machine learning. Meanwhile, Facelook X1 can automatically recognize face without mask and alarm, which leads to lower risk of infection and better effect of epidemic prevention.
More information of Facelook X1 is available at DataVan official website https://www.DataVan.com.tw/home_en.php and https://reurl.cc/Akn07e.
About DataVan
With 30yr+ experience, DataVan dedicated to providing enterprise IT products to serve a variety of vertical market including retail, business, banking, etc. Backed by modern technologies and refined engineering, our top-notch products help clients build a reliable solution that addresses their mission-critical needs. The DataVan team of professionals is committed to establishing long-term mutually beneficial collaboration for continuous product innovation and market growth.
Learn more about the benefits of becoming a DataVan partner at http://www.datavan.com.tw.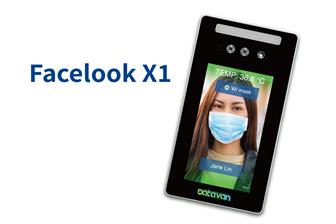 DataVan Facelook X1 solution