President Joe Biden has told insurance companies dealing with Louisiana property owners not to "hide behind the fine print and technicality" when it comes to paying people what they're owed for damage claims resulting from Hurricane Ida.
"I'm calling on private insurance companies: Don't hide behind the fine print and technicality. Pay what you owe your customers, cover temporary housing costs in national disasters and help those in need. That's what we should all be doing now," Biden said in remarks he delivered in LaPlace, Louisiana on Friday afternoon.
Earlier in his speech, Biden said that some insurance companies may deny coverage and limit assistance unless homeowners were under a mandatory evacuation order issued by local or state governments. Many Louisiana parishes initially issued strong voluntary evacuation orders, Biden explained. "Many didn't have enough time to make that order mandatory as a storm moves so fast," he added.
"No one fled this killer storm because they were looking for a vacation or road trip," he continued. "So, folks, they left their home because they felt that they had to flee the risk of death. There's nothing voluntary about that."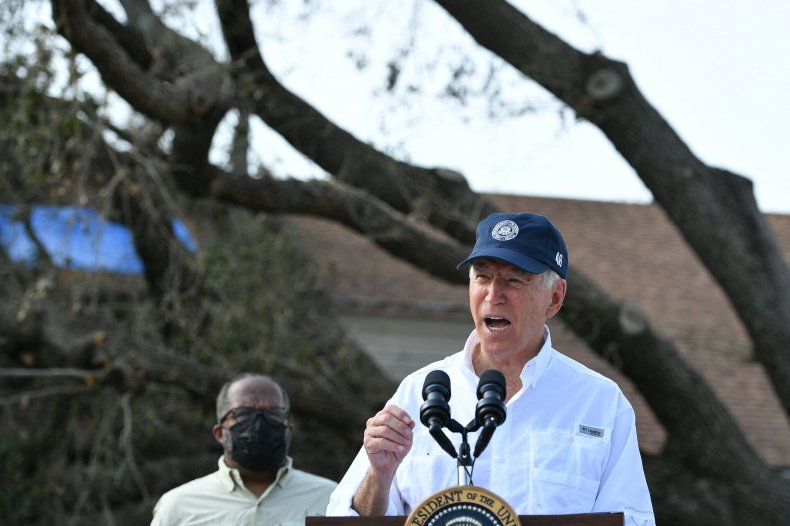 The insurance companies Allstate and USAA have agreed to cover additional living expenses for Louisiana policyholders, CNBC reported. Other insurers are expected to do the same in the coming days.
Hurricane Ida hit Louisiana on August 29, damaging homes, businesses, hospitals and schools, and flooding areas throughout the state. As of September 3, many local grocery stores remain closed, many places lack clean tap water and people face outside temperatures of 80 to 90 degrees Fahrenheit. Some government officials have urged people who fled not to return home yet, Reuters reported.
Insurers may have to pay up to $18 billion in damages, according to Karen Clark & Company, a firm that does catastrophe risk modeling. The firm's estimate includes privately insured damage to vehicles, houses and commercial and industrial properties, but not boats, offshore properties or National Flood Insurance Program losses.
Hurricane Ida had stronger winds than Hurricane Katrina in 2005, though Katrina was larger.
A year after Hurricane Katrina hit, hundreds of people along the U.S. southern coast continued to sue insurance companies for what the survivors said were improperly denied valid claims, NPR reported. Lawyers accused insurers of using appraisals and evaluations that would enable them to pay as little as possible for policy holders' claims.
At the time, State Farm and other insurers said homeowners needed flood insurance policies to cover the hurricane's water damage. Insurers have said the same during Hurricane Ida.
One year after Hurricane Katrina hit the state, insurers settled 658,700 Louisiana homeowner claims, totaling $10.3 billion, according to an April 2006 report from the Insurance Information Institute (III). Overall, insurers settled 94.8 percent of all homeowner claims one year after the storm, III reported.
Newsweek contacted the White House for comment but did not receive a response before publication time.