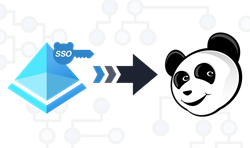 After releasing our Azure AD integration it became abundantly clear that SSO was a key capability our clients required in order to see its full value. We listened, prioritized its development, and released it in record time. – Rex Kurzius, CEO of Asset Panda

FRISCO, Texas (PRWEB)
July 22, 2021
Only 6 weeks after launching its Azure Active Directory (AD) integration, asset tracking software company Asset Panda introduces Azure AD Single Sign-on (SSO).
"This is the perfect example of our client feedback loop in action," said Rex Kurzius, CEO of Asset Panda. "After releasing our Azure AD integration it became abundantly clear that SSO was a key capability our clients required in order to see its full value. We listened, prioritized its development, and released it in record time."
This addition to the Azure AD integration functionality reduces login friction and password fatigue by enabling employees to use one set of credentials to access Azure AD and Asset Panda. This ultimately leads to higher software adoption rates and boosts cybersecurity.
The annual cost for Azure SSO as a stand-alone integration is $99 billed annually. The annual cost of Asset Panda's Azure AD with SSO integration is $108 billed annually. Both options are now available to all Asset Panda clients. Learn more about Asset Panda's integration with Microsoft Azure Active Directory.
About Asset Panda

Founded in 2012, Asset Panda is a powerful and flexible cloud-based asset management platform designed to help the world work smarter. Our mission is to make your company's asset control platform one of the most powerful assets you have. That's why we designed Asset Panda to be mobile, powerful, and easy-to-use, with parameters that you can fully configure based on your unique needs. To learn more, visit https://www.assetpanda.com/
About Microsoft Azure Active Directory (AD)

Azure Active Directory (Azure AD) is Microsoft's cloud-based identity and access management service (IDaaS), which helps employees access and engage with internal and external users and resources more securely.
Share article on social media or email: